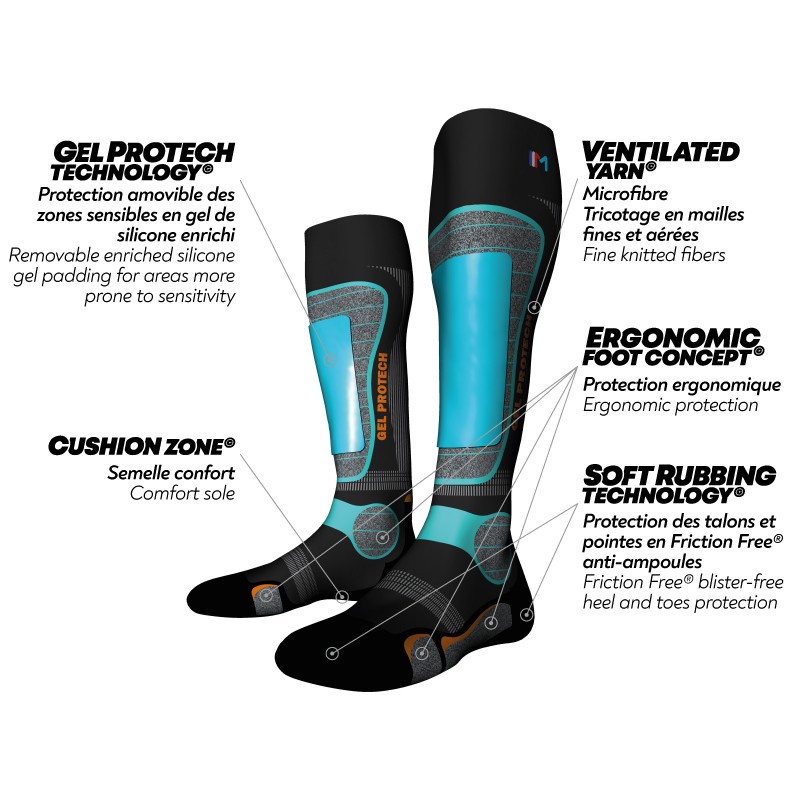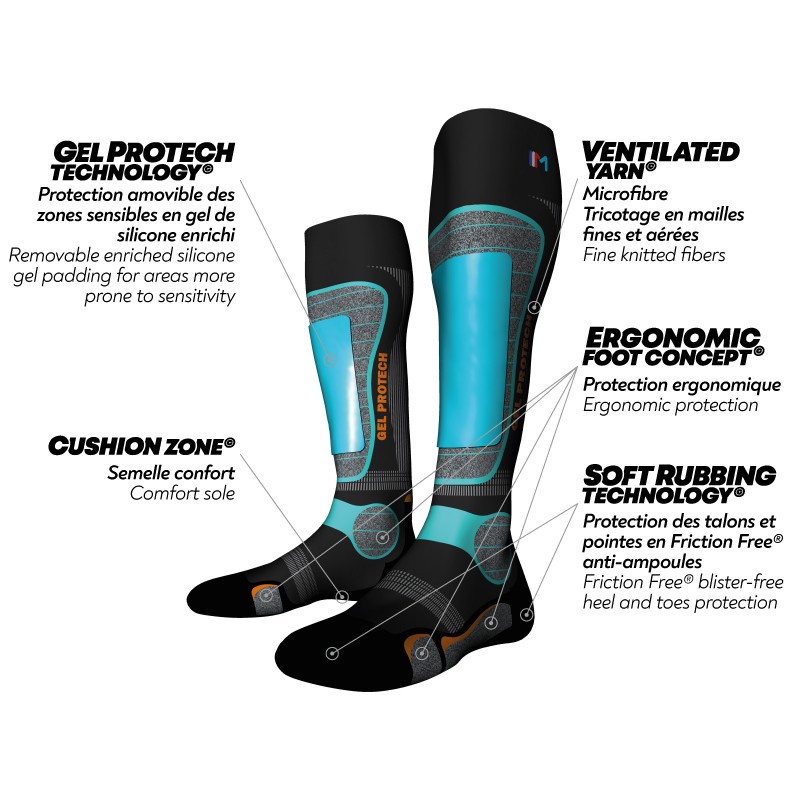  
GelProtech Ski - Socks+Gel
Monnet's GelProtech provides a definitive answer to shin pain, allowing you to ski with complete peace of mind and without limits
Description
A stretch fleece pocket is thermally bonded to the inside of the sock at shin level. Inside this pocket is inserted an enriched silicone gel plate, 3 to 6 times more resistant and more flexible than a classic silicone, measuring 18 x 6.5 cm. It is thus possible to remove this gel plate when washing the socks, then to reintroduce it into the pocket for the next use.
This process has the decisive advantage of avoiding machine washing a silicone gel sheet. Its size of 18 x 6.5 cm allows it to cover the entire sensitive area of the shin and finally the enriched silicone offers the best possible protection against the pressure exerted by ski boots on the shins.
The GelProtech Ski thus perfectly achieves its objective of protecting skiers from shin pain in a durable manner.
The "GelProtech technology" is protected by a registered patent.
Characteristics
Composition and maintenance
| | | |
| --- | --- | --- |
| 72% | Polyamide | |
| 18% | Polyester | |
| 4% | Wool | |
| 3% | Polypropylene | |
| 3% | Elastane | |
Bleaching prohibited
Wash at 30°C
Do not put in the dryer
Dry cleaning prohibited
Do not iron
Turn the sock inside out before washing
Billets relatif avec ce produit
Nouveau billet
Pourquoi acheter de bonnes chaussettes de ski ? Tout simplement car il s'agit de l'interface entre vos pieds et la chaussure de ski. C'est cette chaussette de ski qui...
See more
Nouveau billet
La neige, le soleil, le ciel bleu : tout est réuni pour une magnifique journée de ski et de sensations extraordinaires. Mais voilà que l'histoire se gâte… Vous...
See more
You might like this as well