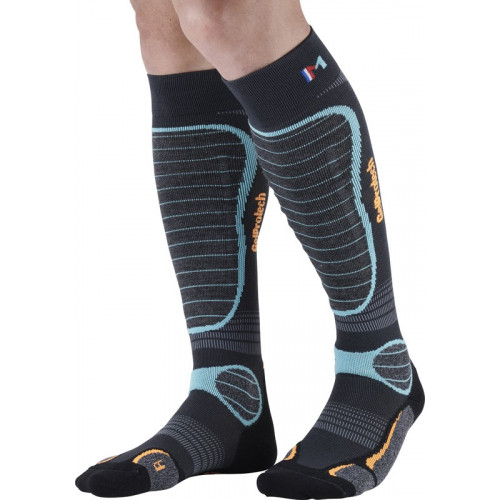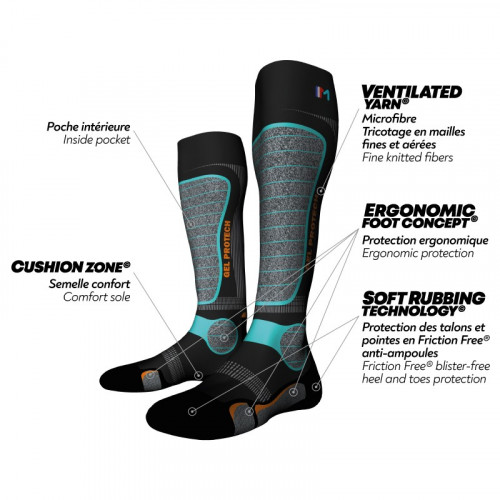  
GelProtech Ski without gel pads
In order to enjoy the exceptional protection and comfort of GelProtech Ski for at least one week, it is recommended to have a second pair of GelProtech socks without gel pads.
Description
A stretch fleece pocket is thermally bonded to the inside of the sock at shin level. Inside this pocket is inserted an enriched silicone gel plate, 3 to 6 times more resistant and more flexible than a classic silicone, measuring 18 x 6.5 cm. It is thus possible to remove this gel plate when washing the socks, then to reintroduce it into the pocket for the next use.
This process has the decisive advantage of avoiding machine washing a silicone gel sheet. Its size of 18 x 6.5 cm allows it to cover the entire sensitive area of the shin and finally the enriched silicone offers the best possible protection against the pressure exerted by ski boots on the shins.
The GelProtech Ski thus perfectly achieves its objective of protecting skiers from shin pain in a durable manner.
Warning  this model is sold without gel pads.
Characteristics
Composition and maintenance
| | | |
| --- | --- | --- |
| 72% | Polyamide | |
| 18% | Polyester | |
| 4% | Wool | |
| 3% | Polypropylene | |
| 3% | Elastane | |
Bleaching prohibited
Wash at 30°C
Do not put in the dryer
Dry cleaning prohibited
Do not iron
Turn the sock inside out before washing
Billets relatif avec ce produit
Nouveau billet
Vous venez de débuter votre séjour en station, et vous dévalez avec joie vos premières pistes. Mais rapidement, une vilaine douleur au tibia met fin à votre...
See more
You might like this as well